Police Service Commission Releases Phone Numbers
OpenLife Nigeria reports that as the nation counts down to the 2023 General Elections, the Police Service Commission, PSC, the Federal Executive Body constitutionally empowered to discipline Police Officers except the Inspector General of Police, among other responsibilities, has appointed National, Zonal and State Coordinators for the exercise. The Commission has already approved the participation of over 360 of its Staff to depart for the 36 states of the Federation to monitor the conduct of Police Officers on election duties.
According to a statement signed by Ikechukwu Ani, Head, Press and Public Relations and made available on Sunday to journalists on Sunday, the Commission warns that it will sanction any Police Officer involved in any form of misconduct before, during or immediately after the elections as it is determined to ensure that Police men on election duties must conduct themselves within the approved rules and regulations.
Dedicated telephone numbers for the public to report misconduct or examplary behavior of Police Officers on duty have been provided to assist Nigerians play a major role in enthroning civil participation in election policing.
Acting Chairman of the Commission, Justice Clara Bata Ogunbiyi, JSC rtd, CFR will be leading the Commission's strong delegation as the National Coordinator and assisted by the Honourable Commissioners representing the six geo-political zones as Zonal Coordinators.
The Permanent Secretary and Secretary to the Commission, Dr. Ifeoma Adaora Anyanwutaku will serve as the Deputy National Coordinator.
The Commission on Wednesday, February 15th 2023 held a training programme for State Coordinators and also organized a two- day induction course for staff monitors.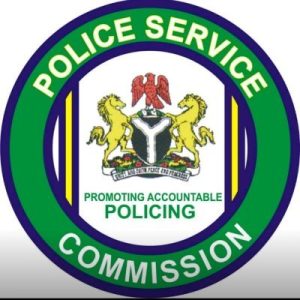 The Commission's Monitors will benchmark Police conduct during the elections with the approved standard operational guidelines for Police conduct.
The Commission's Coordinators and their dedicated telephone lines are:
1. HON. JUSTICE CLARA BATA OGUNBIYI – NATIONAL COORDINATOR
2. HON. COMM. BAWA LAWAL – ZONAL COORDINATOR/NORTH WEST ZONE, 08037861342
3. HON. COMM. AUSTIN BRAIMOH – ZONAL COORDINATOR/SOUTH SOUTH ZONE 08037881566
4. HON COMM. ROMMY MOM ZONAL COORDINATOR/NORTH CENTRAL ZONE 08036081967
5. Hon. ONYEMUCHE NNAMANI – ZONAL COORDINATOR/SOUTH EAST ZONE 08033598169
6. HON COMM. HAJIA NAJATU MOHAMMED – ZONAL COORDINATOR/NORTH WEST ZONE 08065505757
7. DR (MRS.) IFEOMA A. ANYANWUTAKU – DEPUTY NATIONAL COORDINATOR, 08038448277
8. OLUMIDE SODEINDE – Ag. ZONAL COORDINATOR/ SOUTH WEST/OGUN 08065265651
9. IKECHUKWU ANI – MEDIA COORDINATOR, 08033345362
*STATE CORDINATORS*
1. FERDINAND EKPE – ABIA, 08034741057
2. MOHAMMED BILIKISU – ADAMAWA, 08062466060
3. ANTHONY INIOBONG UKO – AKWA IBOM 08061309837
4. OKOLI ANULI ELFREDA – ANAMBRA, 08064696711
5. UMAR BASHAR KABIR – BAUCHI, 08033114047
6. ODEH EMMANUELLA DUNIYA – BAYELSA, 08033091558
7. IHYOM EUCHARIA NGOHILE – BENUE, 08063178426
7. SANUSI YUSUF MUHAMMAD – BORNO, 07034761176
9. OKOI-UYOUYO MATHIAS – CROSS RIVER, 08023677969
10. ODIDO GLORY ONWAGAH – DELTA 08033130078
11. MONDAY NWAIGWE – EBONYI, 07032028842
12. AKOKO JOEL ENINA – EDO, 08056148647
13. JENNIFER AGBO – EKITI, 08055480701
14. ONYISHI FESTUS – ENUGU, 08053399365
15. ABUBAKAR SADIQ MUHAMMED – FCT, ABUJA 08027821126
16. FAMAH DANIEL TYEM – GOMBE, 08033088506
17. MURUAKO CHIDUMA GEORGE – IMO, 08035909482
18. IDRIS BARAYA – JIGAWA, 08050793551
19. OKUNRINBOYE JUSTINA ADA – KADUNA, 08033145592
20. IBRAHIM MAIKUDI – KANO, 08166857559
21. AMINU ABUBAKAR MALUMFASHI – KATSINA, 08033148814
22. KWAMBO HAUWA AHMAD – KEBBI 08065775232
23. DADA BABATUNDE JOSEPH – KOGI, 08054970152
24. OLUMO MARIAM ADEJOKE – KWARA, 08181209688
24. EMAFIYE AJAYI-DANIELS – LAGOS, 08037004465
26. MAMBO SANI – NASARAWA, 08033866167
27. MUHAMMED AHMED GIMBA – NIGER, 07032890001
28. ADEOLA OMOOLORUN ALBERT – ONDO, 08084385726
29. AKUBO LADI – OSUN, 08035954253
30. SOLOMON JIBRIN – OYO, 08050517678
31. WUYEP PONFA AUDU – PLATEAU 08036707485
32. SAAGWE BRIGHTEN FRIDAY – RIVERS 08037879854
33. BAPPAI ABDULLAHI SULEIMAN – SOKOTO, 08056142699
34. ALIYU AHMAD – TARABA, 08099352527
35. UMAR AUDU MAI – YOBE, 08137403209
36. LABARAN AHMED – ZAMFARA, 08067184848