Human Rights Advocate
OpenLife Nigeria reports that a leading human rights advocate in Nigeria, Comrade Ade Ikuesan, has been elected as the new General Secretary of Motorcycle Operators Union of Nigeria, MOUN.
The election that brought Ikuesan to this new office held at the Labour House between November 9 and 10, 2023 in Abuja.
Speaking exclusively with OpenLife Wednesday evening, the notable activist said his new responsibility requires a clinical and professional management of MOUN secretariat for enhanced productivity, national development and well being of operators in the motor cycle chain in the transportation enclave.
Coming shortly after serving out his term as the National Vice-President, Committee for the Defence of Human Rights, CDHR, Ade Ikuesan, said that his commitment to fairness and justice for operators and passengers will not be compromised.
Before now, Ade Ikuesan was the President of ANACOWA, one of the associations that came together to form MOUN.
A foremost Human Rights leader, Ikuesan started his activism as a student at the Ogun State Polytechnic in the 80s.
After school, Ikuesan expanded his activism to the Owena Bank domestic unit at the National Union of Banks, Insurance and Financial Institutions Employees,NUBIFIE.
He subsequently became the first coordinator of Committee for the Defence of Human Rights Oko Oba Unit, Lagos State Secretary and later Chairman of CDHR Lagos.
His diligence, trust and commitment to details prompted late Dr Beko Ransome-Kuti to push for Ikuesan to be elected the first National Internal Auditor of CDHR in 2005.
He became the National Treasurer two years after and most recently the National Vice President under a leading Lawyer Dr.Osagie Obayuwana.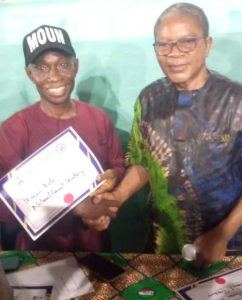 About Author