High Chief Stanley Chukwudi Obodoagwu (Ezeudo Gburugburu ) Founder and Chairman of The Light Givers Humanitarian Foundation, in an interview with OpenLife's Staff Writers, Isaac Ngumah, narrates his empowerment efforts to Ihiala women in Anambra State
ABOUT THE FOUNDATION
The Light Givers Humanitarian Foundation (TLGHF) was established in 2019 whose objective is to empower the less privileged, developing the lives of the people through programs and projects that will eradicate poverty in our society.
It is a registered Non-Governmental Organization that is also focused on building a global humanitarian community.
PASSION
Our passion is to touch lives positively and to enhance the standard of living in our local communities.
Our humanitarian actions are inspired and motivated to extinguish the darkness of social-economic challenges.
Our voluntary donations and participations contribute immensely to the sustainable development goals of the United Nations on community development through poverty alleviation, youth mentoring entrepreneurship skill acquisition, skill/talent development, education, food security, health, social infrastructure and other projects.
VISION
We are the light in a global humanitarian community, touching lives and making a great impact in our local communities, building a world filled with love and light.
WOMEN EMPOWERMENT IN AGRICULTURE
220 women of Ihiala local government area of Anambra State Nigeria have been fully empowered with different types of agricultural seeds, farming tools and fertilizers.
The supports also another sum of N200 million by The Light Givers Foundation to go into agricultural production.
The grand finale of the Woman Empowerment Initiative Programme on Agriculture organized by The Light Givers Humanitarian Foundation took place at St. Martin's Catholic Church Ihiala, on 3rd July 2021.
It was a moment of uncontrollable joy as the beneficiaries couldn't hold their emotions after being empowered with the following agricultural seeds and farming tools that will enable them go into agricultural Production after three months of training.
The training covers Fertilizers, Cassava stems of high breed, pesticides, hand sprayers, farm cutlass/machetes, cabbage seeds, cucumber seeds Tokyo F1/ Murano, tomatoes seeds, green pepper seeds and
Maize.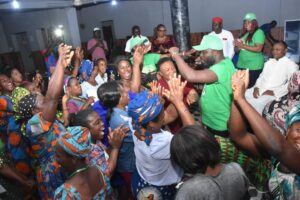 ENCOURAGING WORDS
I have urged all the beneficiaries to judiciously make use of what has been given to them for the purpose of which it was given.
This will help them start up their own farms and become self-employed as well as impact other people's lives positively.
ACHIEVEMENTS
Over 40 kids on scholarship, several medical interventions, medical outreach, lawn tennis court built and donated by to Nigeria Police Force to provide police officers a better opportunity to exercise and interact, Covid-19 relief package in Ihiala, houses to provide shelter to the homeless, food sharing to the indigent / less privileged in our Local communities, Women Empowerment Programme Initiative in Agriculture, Youth mentorship and Empowerment, Skill acquisition and many more.