Shalina Healthcare, a leading multinational pharmaceutical company launched and cascaded her new business strategy and culture to her staff in an event that took place at the Orchid Hotel & Resort Centre, Lekki on the 7th of June 2021.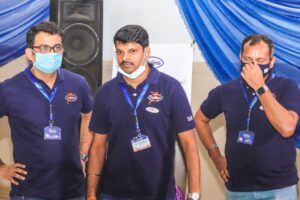 The event, aimed at aligning the Nigerian business with the global corporate initiative, was witnessed by all the members of staff of the company from across the country and across all departments.
The theme of the launch was based on the new corporate goals of the organization and the right corporate culture to drive same.
Addressing the staffs during the launch sessions, the Vice President West Africa, Mr Arun Raj stated, "to support the new strategy it is equally important to drive a new culture amongst the team to achieve this, thus the whole new values and behaviours in discussion today".
Mr Suresh Karuppiahsamy, the Head of Consumer Business West Africa corroborated this, stating "the Foundation of every business success is the PEOPLE! Thus, very important that the entire ShaliKnights rally towards a common vision as ONE SHALINA"
"Creating a high performing culture where every single ShaliKnight strives to deliver their best is what we are out to achieve" stated, the Head of Human Resources for West Africa, Mr Amit Nagpal.
One of the highlights of the day was the Pomp and pageantry of the Award and Gala night where outstanding members of staff were recognised and rewarded for their dedication and performance during the last financial year.
The night ended with merriment and team bonding of Shalina staff from across the federation.
Pharmacist Folorunso Alaran, head of corporate Marketing enthused that "it has been a successful ride for Shalina in the concluded year despite the Covid-19 challenges and this is largely due to our resilience as a team. Appreciating our staff and stakeholders is the least we could do".
In the same light, Sandeep Sahu, head of brand marketing stated, "indeed we can take the leap and achieve the new objectives with careful executions of the various strategies earmarked for each of the brands".
Shalina Healthcare is an African Focused Multinational company with presence in more than 12 countries in sub-Sahara Africa with the vision to be sub-Saharan Africa's Health Champion with brands that people love and trust founded on principles of Quality, Affordability and Availability.
Shalina believes access to quality healthcare is a right for all Africans, so they can lead healthy, productive lives.