Obasanjo In Washington DC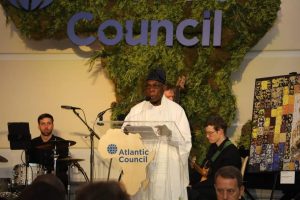 OpenLife Nigeria has reliably gathered that just few days after Chief Olusegun Obasanjo registered strong backing to the 2023 presidential aspiration of former Anambra State governor, Peter Obi in Enugu at the occasion of the 70th birthday of Chief Nnia Nwodo, immediate past President General World wide of Ohanaeze, Igbo socio cultural association, the former Military Head of State as well as former civilian President, on Monday, in Washington DC, enlisted global leaders' supports for Obi.
49 African heads of state and leaders, as well as the African Union, who were invited, are currently gathered in the United States under the auspices of US-Africa Leaders Summit, aims to boost cooperation with African nations, and hosted by President Joe Biden.
The three-day summit, which also has President Muhammadu Buhari in attendance, will focus on key challenges, including the climate crisis, good governance, food security and global health, as well as bolstering US-Africa trade and investment opportunities.
In the evening, Obasanjo attended the welcome dinner hosted by the Atlantic Council.
The guests heard opening statements by the Chairman of the Atlantic Council, Mr John Rogers and the President of the African Union and President of Senegal, Mr Macky Sall.
The night was also graced by various other keynote speakers including President Wavel Ramkalawan of Seychelles which was to welcome the guests to Washington DC.
A Nigerian top business man, based in the United States, who spoke to OpenLife Tuesday afternoon said"Obasanjo devoted time to talk to most of the leaders about the state of Nigeria and the need to support the Labour Party candidate especially the 2023 presidential election."
Obasanjo was said to have received quality attention from the world leaders who see him as a statesman and one of Africa's foremost leaders to be taking seriously.
About Author