Nigeria Projects Strength at IADC Conference in Ghana
OpenLife Nigeria reports that to address the multifaceted challenges bedeviling  the drilling subsector in the oil and gas business including need to collaborate and adopt synergy among players, operators, in a conference organized by the International Association of Drilling Contractors, IADC, which held in Accra, Ghana sued for enhanced performance skills to engineer growth pattern as well as  build all-round future leaders for the industry.
To achieve this, Nigeria, unarguably, the biggest economy on the Africa Continent, showcased its exceptional opportunities, strength and preparedness to lead the way of innovations in the energy sector.
The conference and exhibition themed "Catalyzing Improved Performance for the Drilling Industry," which drew participants from across the globe, harped on the future of Africa and the essential need to harness natural resources and entrench a sound future for the young  generation.
In his opening address, Opoku Ahweneeh Danquah, Chief Executive Officer, Ghana National Petroleum Corporation,  GNPC, who represented the Energy Ministry noted that the timing of the conference was auspicious in view of the emerging and rapidly developments in the oil and gas sector.
He noted that  IADC has recognized its crucial role as a catalyst of the needed innovations and efficiency for the industry.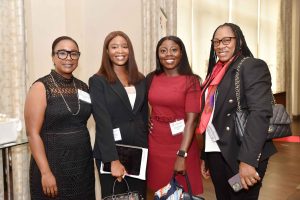 Danquah added that the envisaged higher demand for energy demands that the industry must brace up to the challenges.
"IADC demonstrated tenacity during pandemic. The industry has raised its standard across the globe. But the industry must recognize the development of its local community and develop local manpower.
In Ghana, we share information, ideas as well as collaborate in resource sharing. That has made us became stronger. That is what we do in Ghana. We therefore call on investors to invest in Ghana," he stated.
Speaking on the industry  update, Chuks Enwereji, chairman Nigeria chapter of IADC, harped on sustainability in business through efficiency and innovation. Drawing inference from Gary Lawrence's definition  of sustainability which sees the concept as political choice and  not a technical one, Enwereji urged  players in the drilling subsector  to pursue innovative ways to sustain business.
Enwereji pointed out that despite the global challenges associated with the pandemic, in which Nigeria is not insulated,  oil fields continue to show signs of recovery towards the pre 2014 era.
He explained that there are 17 active rigs in Nigeria as at May 2022 with more rigs at the verge of commencing operations in the months ahead.
"In Nigeria, we are prepared to take full advantage of the emerging super circle which analysts have described as a season for strong demand for energy.
"We are engaging the government of Nigeria for business friendly policies and legislations and we are optimistic that with more encouragement from government, loss licenses will be recovered and more rigs will come on board," he declared.
The chairman however threw that challenge at other players on the continent to brace up for the emerging opportunities, partly energized from the Russia-Ukraine war.
Specifically, Enwereji highlighted the unrelenting determination of the IADC Nigeria chapter to dwarf all obstacles and  remain in business
"Just in May, we rewarded excellence through the Incident Statistics Programme, ISP, at our annual Health Safety and Environment, HSE, awards.
"We have grown from 4 to 55 members in 2022. We are deepening partnership and relationship with government and its regulatory agencies. We are also seeking  re certification for members as well as support our members with best practice skills and relevant industry tools," he disclosed.
Enwereji  called on governments across Africa to address security challenges and multiple taxes, describing the trend as unfriendly to business growth.
"Insecurity for personnel and equipment is worrisome and of great concerns for management. Multiple taxes and unstable exchange rates are mitigating growth. These are regulatory challenges to those in government which must be addressed as quickly as possible," he advised.
Enwereji noted further that climate changes are real and drilling contractors must develop fresh strategies through cost effective mechanism and robust corporate governance structure as well as clinical legal texture. He added that Nigeria has the potential to lead the global market.
On his part, Mr. Ote Enaibe, during a panel session themed "Well Design, Well Construction and Well Control" pointed out the differential in the  current model of drilling business. He explained that contract tenure has significantly reduced to 90 days as against hitherto  two years in which contractors are likely to expend million dollars in Blowout Preventer, BOP. "So, there is need to think outside the box and be innovative, Ote cautioned.
Abioye Shokoya- Eleshin, Business Development Specialist, Aviam Offshore Engineering Company who moderated "Well construction Real Time Optimization" panel sued for the deployment of technology to accrue more values to the organizational structure adding that Management should play a key role by leading by example in digitalization process.
In his contribution,Effiong Okon, Executive Director, Seplat Energy Plc noted that Nigeria is a massive country with  massive challenges and massive opportunities. He stressed that there will be massive energy  demand in Nigeria because of growing population adding that the renewable space is key in the energy transition.
He however emphasized that Seplat is key in massive gas production because of commitment to reduce carbon emission explaining  that the company produces over  4oo million gas per day and aspiring to be the biggest gas producers to displace firewood.
On the  social remedy to the challenges to shape direction for the future, Okon stated that some militants who were the headache in the Nigeria energy space are now fully engaged as some have become  Seplat's contractors.