INEC Postpones Election In Bayelsa
OpenLife Nigeria reports that the Independent National Electoral Commission, INEC, has shifted the presidential election in several wards of the State to tomorrow, Sunday, February 26.
Voters had protested over the late arrival of voting materials and in some units, no voting material arrived.
This created tension which resulted to alleged shooting by military personnel, probably to minimize the breakdown of rule and order.
Besides, there were pockets of protest in some communities in Yenagoa Local Government Area of Bayelsa State over the shortage of ballot papers meant for the Presidential and National Assembly elections in the state.
It was gathered that there is about 48,500 ballot papers shortage in the Yenagoa/Kolokuma/Opokuma Federal Constituency elections were recorded.
The protesters who gathered at Ward 4, Epie 1, which has 47 units, covering Agudama and Akenpai Communities, are insisting that elections would not hold in their area until the missing ballot papers are replaced.
The Supervisory Presiding Officer (SPO), Austin Atekere, said that when he and his colleagues received the materials from the INEC headquarters in Yenagoa, they were not sorted until they got to the ward headquarter.
The state governor, Senator Douye Diri has blamed the Independent National Electoral Commission (INEC) for the poor logistics and the delay in starting the voting process across the state.
Senator Diri who stated this after casting his vote, alongside his wife, at ward 6, unite 4 (kalama-owei wari) in Sampou Community in Kolokuma/Opokuma Local Government Area at about 10:28am said INEC has been contacted and urgent actions are being taken.
However, a male voter who could not be immediately identified alleged that he received a gin shot from the security officers.
The INEC chairman, Professor Mahmood Yakubu during a press briefing in Abuja this afternoon said voting has been suspended in Bayelsa till tomorrow when all the abnormalities would have been rectified.
In like manner, INEC has cancelled the voting process in seven polling units of Kogi East senatorial district, amid widespread violence.
Two polling units were cancelled in Anyigba while the other five were in the Omala community of the state.
The cancellation followed an attack by thugs who shot into the air and disrupted the polling units.
One of the polling units cancelled was Unit 01, Abejukolo ward in Omala Local Government Area.
The thugs who appeared with machetes and guns snatched ballot boxes, broke chairs and dispersed voters.
At Iboko-Efakwu ward, Ofu LGA. Voters were forced at gun point to vote for the APC
Similarly, at Agudoko in Anyigba, thugs going around freely destroyed voting areas, causing residents to scamper for safety.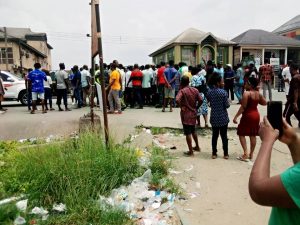 About Author