Governor
OpenLife Nigeria reports that Chief Solomon Ogbonna Aguene, President, Ohanaeze Ndi-Igbo, Lagos State has reacted to a story in the social media in which a group known as Concerned Igbo Elites, CIE, accused him and other Igbo leaders of betrayal over their inability to secure appointments for Igbo men and women in governor Babajide Sanwo-Olu's cabinet.
In the story, Aji Ibe, co ordinator of the group was quoted to have expressed disappointment  over the inability of Ndi-Igbo to get appointments in Sanwo-Olu's 2nd tenure.
In reaction, Chief Solomon Ogbonna Aguene, President Ohanaeze Ndigbo, Lagos said he has answers to the issues raised in PM Express newspaper.
In an interview at his new office in Ikoyi , Lagos, Chief Solomon maintains that despite the complaints against governor Sanwo-Olu, he will continue to support him and his government.
He further called for unity among Igbos. His response to the question is presented below
There is a news report where Igbo group called Concerned Igbo Elites accused you, Joe Igbokwe and many other Igbo leaders of not being able to secure appointments for Igbo men and women in Governor Sanwo-Olu's 2nd tenure cabinet. What is your reaction?
No doubt, today, I am the only speaking on behalf of Ndi-Igbo in Lagos when many of our leaders still believe in eyes service so that they will get appointments or envelope from government.
I have been living well before I became Ohanaeze Ndi-Igbo President by the grace of God and not by any man.
Yes, it is good that I react to this question and the publication in PM Express newspaper.
First, that is the reason why people say that everything that concerns an Igbo man is about business and money.
Only Igbo media practitioners that are good at castigating their leaders. They can bring two friends together and knock their heads together for the purpose of pursuing money.
But other tribes' media practitioners, especially the Yorubas, polish their leaders' images whenever practitioners from other tribes castigate them.
The only people that cannot testify to what I have done to Ndi-Igbo in this Sanwo-Olu's government are the dead ones.
Let us start with the most difficult time in the world, that is Covid 19. I have made sacrifices to bring Ndi-Igbo together under Ohanaeze Ndi-Igbo that Bola Ahmed Tinubu scrapped Ohanaeze Ndi-Igbo from protocol list in Lagos state when he was the governor of the State because of the way the Igbos were disgracing themselves by black mailing one another.
Sometime, they would be fighting one another in Bourdillon, Ikoyi in pursuit of 50 kg of rice and little money that are not even commensurate their sacrifice.
They forget that once you are in any political party, you are an enemy to other parties that you don't belong to.
You can lose your life. You can suffer more than expectation if the party you belong to lose at the end of the election.
Do you know that it is a big sacrifice you are rendering with your future for supporting any candidate?
Sometimes, I asked myself: Are we the greedy hunter who shot elephant in the bush and insisted that he must kill a rate before going home?
Some of you Ndi-Igbo crying for appointments today, are you not the same people who went to Sanwo-Olu to black mail me even when it is on record that I, Chief Solomon Ogbonna Aguene, is the best President of Ohanaeze Ndi-Igbo Lagos.
I run Ohanaeze Ndi-Igbo with my personal contacts. It is a known fact that Ohanaeze Ndi-Igbo has no allocation.
And if there is anyone that has brought any contact that yielded N100k into Ohanaeze Ndi-Igbo account, under my leadership, the person should come and prove it to Ohanaeze headquarters, Surulere, Lagos.
Every strategy was used to make sure that the legacy of my good work does not fly.
And this happened when I have taken Ndigbo out of Egypt through my leadership while some of us are pushing Ndi-Igbo back to Egypt in Lagos government.
Today, you are crying for appointments. Do you know that you people are the tale of a horse that has an injury. When it is shaking its tale, the horse will bring the fly to the head and hit his eyes.
That is what some of you are.
I have gotten everything right for an Igbo man in Lagos State. Joe Igbokwe tried and Tinubu has rewarded him a lot. He can never be hungry again as a man.
If anyone should complain, it is I, Chief Solomon Ogbonna.
But it is a known fact that when you hope on man, that is when you will fail woefully. The best is to hope on God.
Ndi-Igbo, after you have been trained by your father to the university level, you came back home and tell your father that he does not understand English language.
Ndi-Igbo, listen to the next statement:
What I will advise Ndi-Igbo, my people, is that we have done our best for governor Sanwo-Olu. We must leave the rest for God.
I say it every day that we must be mindful of what is coming out from our mouths.
I raised governor Babajide Sanwo-Olu's hand in Alaba International during his first campaign in 2019 with over 10,000 spectators of Ndi-Igbo and passed the message that everybody should go home and talk to their people to vote Sanwo-Olu.
From the spot, the same Ndi-Igbo started fighting me that the godfather of Sanwo-Olu, Bola Ahmed Tinubu, has given me N250 million to take such action. Meanwhile, this is somebody I have never met one on one.
Nnia John Nwodo, then President General of Ohanaeze Ndigbo, disowned me as his subject which I accepted.
I told him that we are in Lagos and he stayed in the east and that what ever we are doing in Lagos is none of his concern.
He made it clear that I was not the one to decide for Ndi-Igbo.
At that time, he was working seriously for Atiku and Jimi Agbaje as the candidate of PDP, Lagos State.
Then, I told my people that nobody could change the Tinubu's government at that time and still counting.
I told Ndi-Igbo that we must go in APC direction especially Lagos State where Ndi-Igbo have recorded much success and that we cannot be an opposition to the government of the day.
Again, I asked myself, can someone get money from somebody through television because at that time, I have not met Tinubu one on one or through an agent who works with him.
So, some of us cause the problems confronting us, Ndi-Igbo.
I have done many things for Ndi-Igbo including empowerment of widows, organizing the biggest rally for Sanwo-Olu including a town hall meeting which no Igbo supporters' group in politics have organized for any candidate of any level, both south east and Lagos.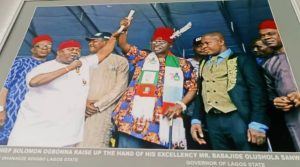 That made governor Sanwo-Olu to have lot of sympathies towards Ndigbo. I also brought Ndi-Igbo back to the protocol list of Lagos State.
All these were my efforts. The above events were single handedly organized by me. But they were sponsored by Chief Ifeanyi Chukwuma Odii which motivated me, Chief Solomon, giving Ifeanyi the grand patron of Ohanaeze Ndi-Igbo, Lagos.
I used that to announce his name in Lagos and south east in appreciation which is still counting.
So, most of our Igbo media men do not know much about Lagos politics. But they attend many occasions uninvited and publish anything they are told by anyone who gives them money.
Most time, they know that when they hit you and your friend's heads together through media blackmailing, so that they can  eat double by the second person reacting to defend himself.
They don't care what that reaction will metamorphose into in future. So, this is the style of some of them.
But there are exemptions. For example, the MD of the Sun newspaper, Onuoha Ukeh, is an Igbo man.
No matter how much you offer him especially anything that concerns Igbo man, he must do his research. He does not report negatively or blackmail.
Well, what ever anybody has said about me, there is nothing to worry about. I am a born leader. Anybody that does not discover his profession will not do well.
My leadership is by birth. I have spirit of sacrifice, forgiveness, wisdom and also common sense. In leadership, whatever quality you don't have, you find the professionals in those areas to handle things for you.
Above all, practical is the master key of leadership.  If government is doing well in theory inside office, they must exhibit it practically so that those under their leadership will testify.
Joe Igbokwe has been following this Lagos State government from scratch.
He is not my friend. He is not even saying positive things about me especially in my absence. And that is human being for you.
But his sacrifice in Lagos State has to be  acknowledged. He is my Igbo brother which I will never deny. His progress is also a joy to me. When I came in to preach about the government, Ndi-Igbo showed more commitments and became interested and still counting till date.
But Joe Igbokwe who started early should always been remembered because what is for him is for him. What is for me, Chief Solomon, is for me.
Of all the people that have worked closely with the Lagos State government right from Tinubu time, they have all benefitted more than me. But nobody has brought majority of Ndi-Igbo that believe in the party more than me.
Maybe why I did not benefit much is because I was giving Ndi-Igbo everything that the government  sent to them through me  without driving it to  my personal interest .
My sincere joy today is that above 90 percent of Ndi-Igbo  are saying that it was during my leadership that they knew that things were coming from Lagos State government especially Covid 19 palliatives and Christmas including Sallah periods.
Ndigbo, you should understand that little mistakes is opportunity for politicians to deny you of all the efforts.
But governor Babajide Sanwo-Olu is a born again Christian and is  not in that category. He is a member of Mountain of fire, MFM. Lets be patient and continue to support him. It is not over until it is over.
Importantly, 2023 election should not be a trick to deny those Ndi-Igbo that worked for the party.
Some Yorubas voted against the party. Some Ndi-Igbo including the Hausas also voted against the APC party.
And that is politics for you.
About Author