Enhanced e-Passport
OpenLife Nigeria reports that on Tuesday, the Minister of Interior, Ogbeni Rauf Aregbesola, launched the Enhanced e-Passport and Passport Production Center for Nigerians in Canada.
The Enhanced e-Passport is the latest technology in identity documentation. It comes with additional security. It comes in various categories, including the 64-page-10-year validity Passport which is quite convenient for frequent travellers. It is a product of the latest technology in passport administration and issuance. Only very few countries in the world can boast of it as of today.
Indeed, Nigeria is among the first five countries in the world and the first in Africa to have this enhanced e-passport. The document is of higher grade with additional 25 security features than the one currently in use. It is polycarbonate in design and therefore water-resistant. It cannot be compromised by counterfeiters and identity thieves.
Below is the full speech titled "The Passport Train Rolls To Canada," delivered at the event by the Minister of Interior, Ogbeni Rauf Aregbesola
It gives me great pleasure to be in Ottawa, Canada, and in the company of the good people of Nigeria and our Canadian hosts. We have been to Britain and United States and now we are here.
Canada is a good country, indeed one of the best in the world to live in and do business. Over the decades, Nigerians have been coming here to get good education and earn a living.
The natural charm of this country will continue to attract people from all over the world.
Canada has also been our partner from ages past and continues to render good assistance to Nigeria and Nigerians. Canada was one of the countries that stood against military dictatorship and stood by pro-democracy activists in the heady days of the 1990s, offering asylum to those being persecuted.
The trajectory of passport is an interesting one. Before passports, cultural identity used to be the means of identification. People crossing international boundaries are mainly identified by their language, colour of their skin, dressing, religion and other external means.
The first reference to an international travel document was of Nehemiah in the Bible, an official of King Artaxerxes I of Persia, who sought to travel to Judea, and was issued a letter to the 'governors beyond the river' around 450 BC.
However, King Henry V of England had the distinction of inventing the passport as we know it today. This was codified in the 1414 Act of Parliament.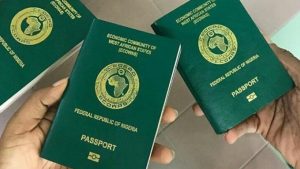 The passport was introduced in Nigeria in 1948 and was called 'British West African Passport'. It was brown in colour with 63 pages. This was changed at independence to light green colour and reduced to 32 pages. The machine readable and electronic passport was later introduced. However, it came with some challenges, prompting the need for the enhanced passport we have come to present here.
For those of you in the diaspora, I do not need to reiterate the importance of the passport. It is your life. It is the passport that validates your person. Without it, you are classified as 'stateless'. The mandate we have received from President Muhammadu Buhari is to engender citizenship integrity.
Nigerian citizenship should count in everything and Nigerians should experience no discomfort or any stress in the course of doing business with any government agency. Validating their identities through the passport should therefore be seamless.
The enhanced version we are presenting is the latest technology in identity documentation. It comes with additional security. It comes in various categories, including the 64-page-10-year validity Passport which is quite convenient for frequent travellers. It is a product of the latest technology in passport administration and issuance.
Only very few countries in the world can boast of it as of today. Indeed, Nigeria is among the first five countries in the world and the first in Africa to have this enhanced e-passport. The document is of higher grade with additional 25 security features than the one currently in use. It is polycarbonate in design and therefore water-resistant. It cannot be compromised by counterfeiters and identity thieves.
Our major challenge in passport administration was the Covid-19 pandemic which really hit us in 2020. It disrupted our production schedule, leading to pileup of arrears. It also triggered an unprecedented upsurge in fresh demands that overwhelmed our system. But thankfully, all these are gradually being left behind.
In Nigeria, we have the serious challenge of applicants patronising touts and some unscrupulous officials who sometimes promise what they cannot deliver, after collecting outrageous fees, but leaving their applications in tatters at the end. They now run to us asking for assistance.
It is important therefore that all applicants go through the Nigeria Immigration Service portal and follow the protocol laid down, pay the right fee and go for biometric data capture on the stipulated date.
The waiting period after data capture for fresh application is six weeks and three weeks for renewal.
This timeline is to enable NIS verify and validate the claims of applicants and confer integrity on the passport issued. It is a reasonable provision in passport administration by global standard. There is no wait-and-get passport service anywhere in the world. The only wait-and-get passport is passport-sized photograph from Polaroid camera. In some advanced countries we often like to cite, it takes months to procure their passports.
It is important also that your details with NIN sync with the data on your application. Any discrepancy will stall your application until it is corrected. The order of the appearance of the applicant's name especially has been an albatross for many.
We have introduced tracking mechanism in the application process, to enable applicants monitor the progress of their application. We shall continue to introduce necessary and available innovations to passport administration in order to best serve applicants in our quest for establishing citizenship integrity.
If you have done the right thing and you encounter difficulties with our officials over unlawful demands or deliberate frustration of your application, please make a representation to my office with the relevant details. We shall surely address your case.
We introduced some reforms into passport administration. These brought some significant changes, including the mode of application and the waiting period among others. They are meant to bring transparency, efficiency and integrity into the issuance process.
I will urge us therefore to adjust to these changes and make the process exciting and fulfilling for us all.
I will like to mention that Nigeria was recently re-elected into the ICAO Public Key Directory (PKD) board for the fourth time, back to back. This is an eloquent testimony of the Federal Government's commitment to global best practices in passport regulations.
I must thank and appreciate President Muhammadu Buhari for his continued favourable disposition towards our Ministry and its agencies, including NIS, which has enabled us to expand the scope of passport administration, amidst other assistance we have received from him.
I will like to thank immensely the Nigerian Mission in Canada, including the High Commissioner and other members of the Diplomatic Corps for the cordial working relationship with the NIS.
I must commend the Acting Controller General of the NIS for his hard work, diligence, patriotism, innovation and diligent pursuit of the reforms in NIS. I also through him thank all the officers and men of the NIS for their sacrifice, patriotism and unalloyed service to the nation, keeping our borders safe, in trying and challenging circumstances.
Last but not the least, I thank all Nigerians in Canada for being good ambassadors of the country and lifting the banner of Nigeria to the highest possible level.
I thank you all for your kind attention.