Benin Bronzes return
OpenLife Nigeria can reports that those who have been in the vanguard for the struggle of the return of stolen artworks from Benin by the colonial masters recently heaved a sigh of relief when Germany agreed to return to Nigeria priceless artefacts that were stolen during the colonisation of Africa.
It is on record that since the rebirth of democratic governance in Nigeria, starting with Lucky Igbinedion as Edo State governor in 1999, government officials have been unrelenting in the pursuit of the return of stolen bronzes of different sizes and shapes.
From the sketches of history, British troops who were said to have razed the whole Benin City to the ground in 1897 to avenge the killing of an earlier force, further looted thousands of artworks known as the Benin Bronzes in the process from the Kingdom of Benin.
Following auctions, some of the bronzes ended up in museums and private collections across Europe.
More than 900 of these artefacts are housed in the British Museum. They hold deep cultural significance, and there has been growing international pressure to give them back.
However, the British Museum has said that it is "committed to facilitating a permanent display of Benin material" in Edo, but has not specified how many items would be returned, adding "the selection of objects will be determined through discussion with our Nigerian colleagues."
Similarly, Berlin's Ethnologisches Museum which holds more than 500 Benin artefacts stated that "We want to contribute to understanding and reconciliation with the descendants of those whose cultural treasures were stolen during colonisation," German Culture Minister Monika Gruetters said recently, adding that the first returns were expected to take place in 2022.
In the same vein, Scotland's University of Aberdeen has also said it would repatriate a Benin bronze whose acquisition in 1957 at an auction it called "extremely immoral."
These developments have elicited joy and happiness in Edo State.
However, Jess Castellote, Director, Yemisi Shyllon Museum of Art, Pan-Atlantic University sees it differently saying it is not what is returned that matters but what is done with what has been available and others that will be returned.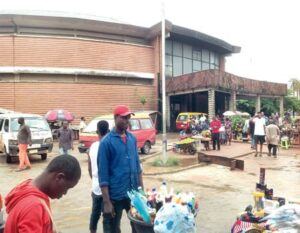 Castellote, who feels Honoured, being the first director of the Yemisi Shyllon Museum of Art, YSMA, contribution towards a better society noted that Edo government should do more to recreate an environment where tourism would strive.
He stated that between the time the artworks were stolen and now, numerous bronzes of different categories would have been produced in Edo asking "What have they done with those ones? How many people visit the Edo museum?" He asked.
Castellote emphasized that the state government must address the enabling factors for the promotion of tourism stressing that returned artworks gathering cake in the shelf would translate to abuse of the numerous efforts geared towards the returns.
Curiously, Castellote's advise speaks directly to the rape of Oba Akenzua 11 Cultural Centre, serving as motor park for different destinations in Edo and outside the state.
Located in downtown Benin City on Airport Road, just a stone throw from the popular Ring Road, what was designed by Prof. Demas Nwoko to be the premier venue for plays, video debuts and other performances when it was conceived in the'70s has ironically been turned into a den of dope dealers, marijuana smokers, ground nut sellers, food vendors, motor park thugs, night commercial sex workers, drivers, bread hawkers, a urinary and refuse dump.
Before a market sprung up at the sprawling premises in January 2017 following Obaseki's decision to turn it to a motor park, it hosted weddings, symposia and other events when it was eventually completed after a very long time at the turn of the century.
Nwoko originally designed the building as a University of Benin theatre in 1972 but it ultimately became a government-funded civic structure that opened in 1993.
It was originally named after the late Head of State, Gen. Sani Abacha until it was renamed after Omo N'Oba Akenzua 11 by former Governor Lucky Igbinedion.
Sitting between 200 to 700 people, depending on whether the forestage and orchestra pit are in use, the edifice two stories accommodate highly pitched seating as well as two roomy hallways sometimes used for exhibitions.